For a child, a taxi is a magic vehicle. A four-wheeled witches' broom. As you enter it, a taxi can take you anywhere you want to go. But what if its magic was even bigger? What if taxies could allure stories, fantastic and absurd stories, funny stories full of people and animals and giants and a pirate captain with four pirate captain hats?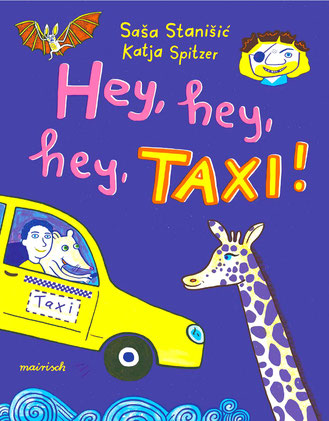 What if taxies were gateways for the fantasy of children?
This is exactly that kind of book: A book, in which a certain someone gets into a taxi and enters a strange world, one of a kind. These journeys lead in all directions, to a place next door as well as through time and space. But in the end they always lead back home – back to the child.
Saša Stanišić wrote his first children's book – together with his son! Together they came up with the wildest, craziest, sparkliest adventures one can encounter in a taxi. With a passion for detail, illustrator Katja Spitzer brought those ideas and its creatures to life.
Big fun – and almost too exciting for bedtime stories!
by Saša Stanišić & Katja Spitzer
Nominated for the German Children's Literature Award 2022
White Ravens 2021
Book of the Month, March 2021 — German Academy for Children's Literature
"What an extraordinary children's book full of wild, exciting and absurd stories set in a taxi. The love for storytelling bubbles up, the illustrations expand the text in great detail and invite you to take a whirlwind ride. A book for the whole family!" – Deutsche Akademie für Kinder– und Jugendliteratur [German Academy for Children's Literature]

"Fabulously funny, surprising, exciting and crazy, a book that can be browsed through in all directions [The book] works as an inspiring invitation to put your own imagination in such a fantastic vehicle and roar into strange worlds." – Marion Klötzer, Badische Zeitung

"It's all very surreal, almost gaga, but children won't wonder about that. Why should you wonder when the whole world feels magical when you're at an age where the answer to the question "What do you like to do most?" is "Nonsense." These stories here are big nonsense, nonsense on stilts, prize-winning nonsense." – Tobias Becker, SPIEGEL

"Stanišić's linguistically overflowing, overglowing imagination is boundless." – Stefan Grund, WELT

"The most important thing about these wonderful stories is that they can be 'told', that the readers and children find words for them. And that someone here always returns to their child and never lets them down. " – Gerrit Bartels, Tagesspiegel

"A read-aloud; exuberantly and colourful and pleasantly non-cutesy illustrated by Katja Spitzer […] Saša Stanišić explains his goals when writing this book in the foreword: "To delight, to confuse well, to encourage people to join and narrate themselves." And above all, it is this unbeatable bamboozle that makes "Hey, hey, hey, Taxi" an instant favorite. […] The humor is pertinently twisted, the logic follows its own rules (or sometimes none at all), there is plenty of room for disguised voices, noises, interposed questions, and above all, the characters are quirky and lovable." – Maike Schiller, Hamburger Abendblatt

"It is Saša Stanišic's first children's book, a cheerful read-aloud that is made for people from the age of four, but which also ensnares the reader. Namely into unbelievable realms and to fabulous adventures." – Birgit Nüchterlein, Nürnberger Nachrichten

"Yes, this is different from the usual read-aloud monotony. Entertaining and well-crafted. Just like Marc-Uwe Kling, Stanišić mastered the challenge of writing children's books with flying colors. More please!" – Robert Elstner, ekz
---
mairisch verlag | hc | 96 pp | 210 x 270 mm | 2021 | 4+
Rights sold: Bosnian, Catalan, Croatian, Italian, Spanish