When little Anouk gets lost in the forest she encounters the much dreaded bear. But she quickly realises that contrary to the rumours the big animal is utterly harmless.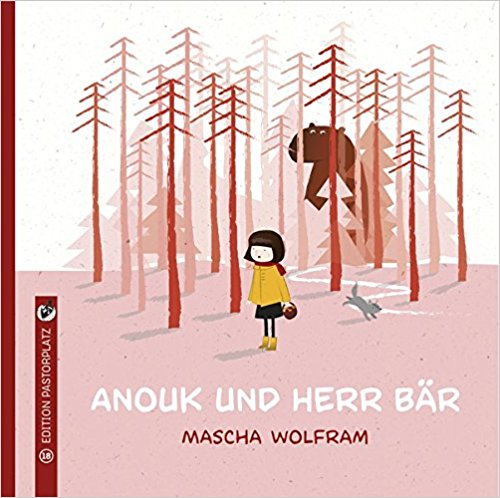 An exceptional friendship ensues. A modern interpretation of the old Russian fairy tale.
Anouk and Mister Bear demonstrates how brave childish innocence can be.
by Mascha Wolfram
"The design of this book is extraordinary—and also extraordinarily beautiful […]. The upshot is: Not just a fascinating, beautifully narrated story with a happy ending for children aged 3-5, but also the appeal not to believe everything that you are told, but to form your own opinion." – Kinderohren Blog

"Wolfram carefully applies proximity and distance to capture Anouk's fear as well as the bear's sadness. The meaningful text in white letters sits alongside the illustrated page and determines the narrative flow when turning the pages. Thus typography and imagery are in a balanced harmony […]. A book for tolerance and against prejudice […]." – Alliteratus: Das Besondere Bilderbuch

"The book's tenor: Don't just believe what you hear, find out for yourself!" – AjuM—Arbeitsgemeinschaft Jugendliteratur und Medien

"Wolfram successfully renders a new interpretation of the old Russian fairy tale. Her colourful illustrations in lucid pastel colours are very appealing." – ekz.bibliotheksservice
---
Edition Pastorplatz | hc | 52 pp | 210 x 210 mm | 2017 | 3+
All rights available
[Anouk und Herr Bär]