Commotion at the swimming lake – what's going on?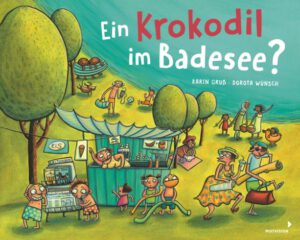 "A crocodile in the lake!" – That can't be true. Or can it?
Twelve wonderful and colourful scenes tell of the great commotion caused by this headline. There is a lot to look out for, to discover and to puzzle over in each picture. Great fun for little detectives who will no doubt discover who is behind the turmoil.
by Dorota Wünsch & Karin Gruß
A Fake News Story in pictures
Hidden object book with funny characters, riddles and rhymes
By two renowned artists
"Don't believe everything you read in the newspapers! This humorous book of hidden pictures introduces even the youngest children to this wisdom in a playful way." www.lesejury.de

"With a good dose of humour, wonderfully funny characters and hidden pictures full of funny ideas and details, Karin Gruß and Dorota Wünsch have tackled the subject of "Fake News" […]. A cheerful, excellent and clever discovery hidden object puzzle for little sleuths." – www.kinderbuchlesen.de

"A motley cross-section of society in which many find themselves somehow. Pure diversity. A colourful community, just as it should be in life, even if one or the other character is also exaggerated, caricatured, so that we have even more to smile about." – kinderbuchkiste.blogspot.com

"The illustrator Dorota Wünsch captures the lightness of summer with a lot of colour intensity and shows pictures full of humour and mischief. In addition, "A Crocodile in the Lake?" clears up prejudices and encourages the reader to check the content of information. All in all, a very narrative book, witty and expressive." – kinderbuch-liebling.de
_____________________________
Mixtvision | hc | 32 pp | 300 x 240 mm | 3+ | 2021
All rights available
[original German title: Ein Krokodil im Badesee?]