Can I Be in the Middle, Please?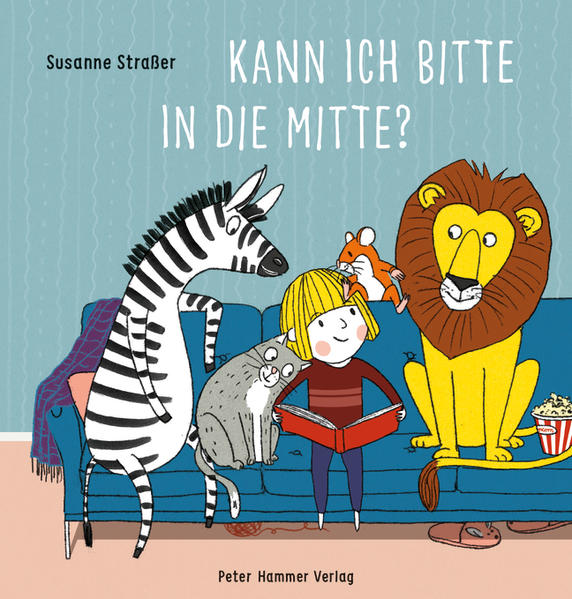 "Come on, let's read a book!" calls the child and right away everyone sits on the sofa: the zebra, the cat, the child, the hamster, the lion. They are ready to go. 

"Wait!" whinnies the zebra, "the stork isn't here yet!" Here he comes. So they can get started now.
As if. The cat needs a cushion, the fish is still missing, the lion is getting too cramped, the fish wants to be in the middle … So, NOW they'll be able to start, won't they?
Once again, Susanne Straßer keeps her little readers on the edge of their seats and, after a great deal of hullabaloo, provides and enjoyable ending.
Peter Hammer Verlag
Board Book

Original title: Kann ich bitte in die Mitte? 
Age 2+
24 pp | € 14,90
board | 205 x 215 mm
Publication: 2021

Author & Illustrator: Susanne Straßer
Rights sold: Danish, Dutch, English, French, Italian, Kazakh, Korean, Portuguese (Brazil)

"Once again Susanne Straßer turns everyday scenes into small, fine, funny treasures." – Eltern-Magazine, March 2022
"This almost postmodern joke plays with childlike impatience and inner nervousness, with the desire for calm and frolic in equal measure, with the search for one's place in life – lovingly and with a lushious stroke." – Jan Drees, Literaturblog Lesen mit Links
"There are eight very likeable characters who all want to come into their own. Clear outlines and bright colours set the scene for book fans […] And how they arrange themselves in the end: simply great!" – Andrea Wanner, TITEL kulturmagazin
By the same author and illustrator