Little Sophie can hardly wait for her visit to the zoo today. Full of anticipation, she walks through the city and already discovers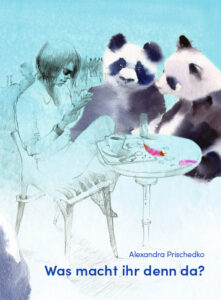 animals everywhere. Aren't those two pandas sitting at the table in the café over there? Or is the lady with the sunglasses sitting there all alone?
Sophie's fantasy world and reality merge and inspire big and small readers to emulate her. Which other animals are also hiding in the city? Which shapes, colours and movements remind us of zoo animals? An exciting and creative walk through modern city life begins …
What Are You Doing There? sparks off positive fantasies. In beautiful, luminous watercolour paintings we encounter exotic animals such as flamingo, jellyfish, sloth, alpaca and dragonfly; all in very unusual, surprising places. An invitation to discover and let the imagination run wild!
Fantastic visit to the zoo

Inspiring walk through modern city life

Terrific daydreams
Winner of the Troisdorf Picture Book Award 2023 – Children's Jury
Shortlisted for the SERAFINA 2022 – Newcomer Award for Illustration
"Wit and wisdom." – Buchmarkt

"The Ukrainian-German illustrator turns the city into an animal park and sets human and animal behaviour in parallel; not in a caricatured way, but with a calm observation, so that her pictorial links trigger comparisons on the one hand and remain magnificent imaginings on the other." – Hans ten Doornkaat, NZZ

"Sophie goes to the zoo – and Alexandra Prischedko draws her way through the city and turns everyday scenes into a projection surface of blossoming imagination. Zebras meet on the strip of the same name or flamingos stalk around at crossings. With delicate graphite drawings and brightly coloured watercolours the artist allows reality and fantasy to flow into one another. The intense, sometimes expressionistic colouring of the animal figures, which are otherwise painted close to nature, invites the viewer to dive into this world." – from the shortlist speech for the nomination of the SERAFINA 2022 – Newcomer Award for Illustration
---
Edition Bracklo | hc | 32 pp | 235 x 320 mm | 2022 | 5+
All rights available
[original title: Was macht ihr denn da?]