Wieke is angry. She likes neither Xandra, her dad's new girlfriend, nor her annoying little daughter. And now she is supposed to spend her holiday in an Italian mountain village with them! When Ken comes along, the refugee boy from Nigeria for whom Xandra has taken over guardianship, Wieke has had enough.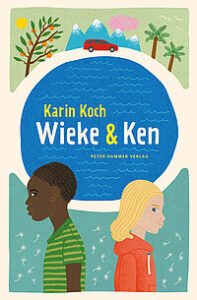 As it happens, Ken also has little desire to go on holiday with people he barely knows. Most of the time, he hides from Xandra's excessive care and Wieke's dislike, or he wanders around the village alone, always searching for mobile phone reception, because there is nothing he misses as much as contact with his mother. He already knows that he is often met with suspicion. But when Wieke also suspects him of theft, it's too much: Ken runs away!
From alternating perspectives, the author narrates how Wieke and Ken look at the world and at each other, and young readers thus discover both: the big differences in the life stories of two children, but also what connects them: their vulnerability and longing to belong.
Holiday story of a patchwork family

Topics: Racism and prejudice

Narrated from two perspectives
by Karin Koch
___________________________________
Peter Hammer Verlag | hc | 136 pp | 149 x 223 mm | 2021 | 10+
All rights available
[original title: Wieke & Ken]