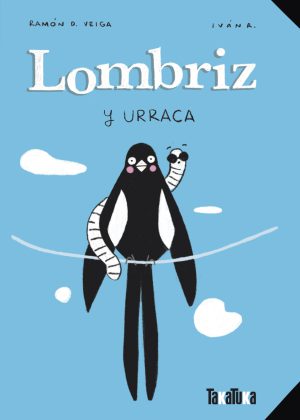 Earthworm meets a magpie. The magpie is extremely talkative and polite, which raises the suspicions of Earthworm, who fears the worst. And indeed, Magpie only wants to be polite in order to try to eat Earthworm. But Earthworm, with the help of a mulberry tree and a pizza, manages to win Magpie's friendship and loyalty.
Earthworm is the unlikely star of this new comic series aimed at early readers and children aged 5 years and up. A lover of pizza, with a fine sense of humour and an irresistible empathy, he will introduce us to the life of earthworms and will never cease to surprise us with his irrepressible curiosity and desire to befriend other animals.
Takatuka
Comics & Graphic Novels

Original title: Lombriz y urraca
Age 5+
64 pp | € 14
hc | 170 x 240 mm
Publication: April 2022


Author: Ramón D. Veiga
Illustrator: Iván F.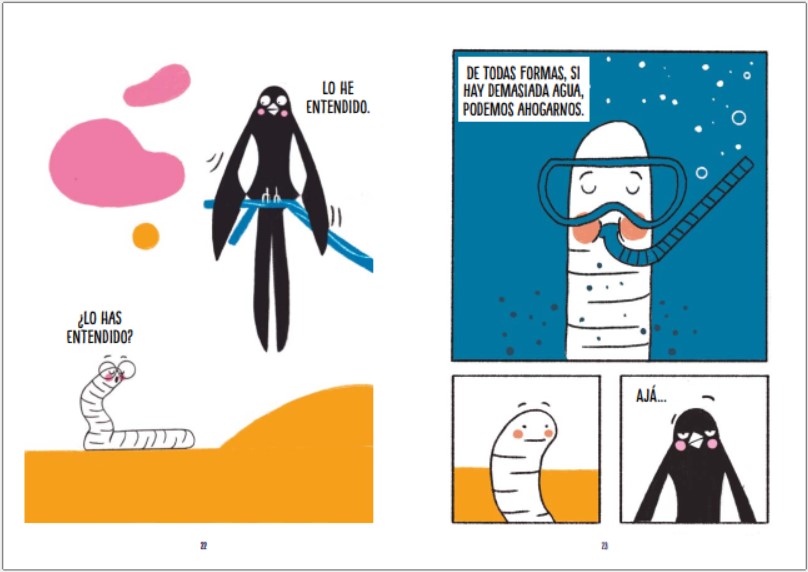 "Brilliant dialogues, funny illustrations, characters that remain engraved in the retina. A great first comic to have a great time." – Recommendation from La Petita bookshop at mamaproof.org

"A comic to encourage the little ones to enter the world of comic strips, full of brilliant dialogue, fun illustrations and three key ingredients that never fail in stories for children: poo, pizza and a sense of humour." – M. Rodríguez, Faro de Vigo

"A shrewd story about stereotypes and the behaviours that lead to discrimination, in a comedy tone, interpreted through two humanised animals, an earthworm and a rabbit, who have serious difficulties to make friends. […] An ideal comic for young readers who are beginning to take their first steps in the universe of cartoons and comic strips, designed with a simple palette of pastel shades and which shows, in a fun and varied way, the multiple resources of the language of the ninth art." – Canal lector, *****

"The earthworm returns to the fray. This time with the magpie, a hungry bird who, in the interests of friendship, decides not to eat it. As a thank you, the earthworm points him to a place where he can gorge himself on blackberries and also gives him a slice of pizza. Will the chattering magpie like it? Let's hope so. If they let him taste it…". – Informative Book Selection 2021-2022 (Part Two), Where the Wild Things Are