Ringo and the Vampire Rabbits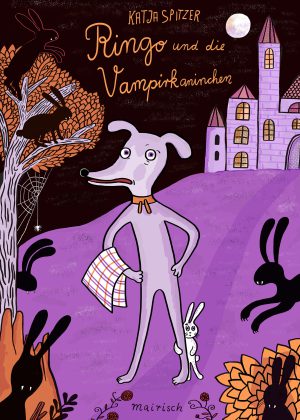 Welcome to the castle in the Carpathian Mountains! This is where Mr. Constantin lives with his butler, the greyhound Ringo. Ringo serves his master the best scones in the morning and the most delicious lasagna in the evening. But one day, Mr. Constantin receives a strange gift: a rabbit named Moffat. Moffat is small, cute and fluffy, and Mr. Constantin seems to only have eyes for him. But then one night Ringo makes a scary discovery and suspects: Moffat is a cunning little fellow.
A funny scary story, lovingly told and illustrated by Katja Spitzer.
Mairisch Verlag
Children's Fiction

Original title: Ringo und die Vampirkaninchen
Age 6+
56 pp | € 18
hc | 170 x 240 mm
Publication: Sept 2022

Author & Illustrator: Katja Spitzer
All rights available, excl. Spanish & Portuguese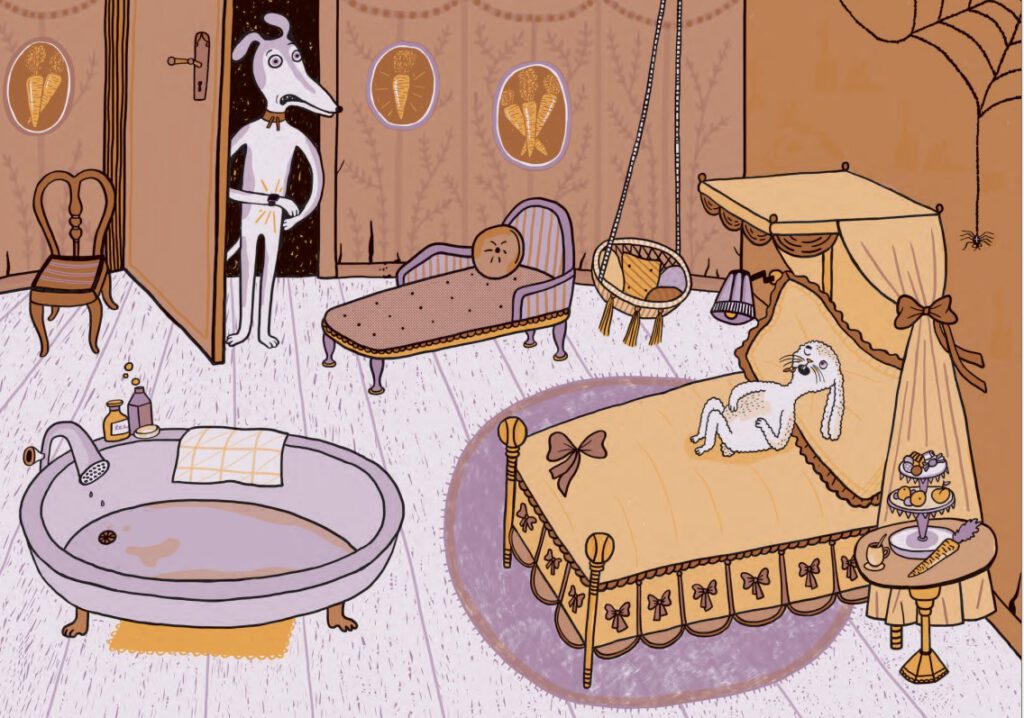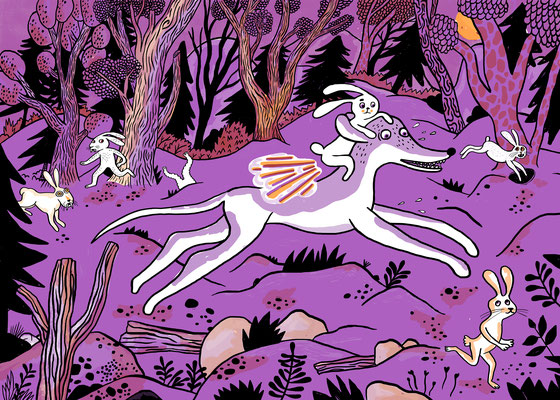 "A great new voice in children's and youth literature. Surprising in content, beautiful in language and with a wonderful humour all its own." – Salah Naoura
"Ringo rocks!" – Halina Kirschner
"Ringo and the Vampire Rabbits by Katja Spitzer is THE book for Halloween this year. It convinces with the right mix of creepiness, suspense, humour and friendship and the bright, expressive illustrations. Oh yes, and of course garlic is not to be missed!" – mintundmalve.ch
"The promising mix of quintessentially British crime constellation and classic vampire ambience develops into an eerily beautiful pleasure. […] With such an enchanting vampire thriller, one can perfectly stand up to one-dimensional Halloween commerce." – Elke von Berkholz, Letteraturen
"A horror story at its best. It is as exciting as it is funny, full of clever surprises and eerily beautiful ideas." – Svenja Kretschmer, Deutschlandfunk
"In Ringo and the Vampire Rabbits, whose richly detailed imagery glows in bold Halloween colours, Katja Spitzer humoristically turns vampire myths on their head and leads readers by the nose, only to surprise them with gruesome beauty at the end." – Katja Allelein, Kinderbuch-Liebling.de
"Vampire and rabbit lovers and all those who want to become one will get their money's worth from this story. In her children's novel, Spitzer skilfully plays with the building blocks of the vampire story genre, giving it new twists and updating it in a refreshing way." – Anna Stemmann, footnoters.de
"A chase, unexpected twists and witty details make this story delightful creepy reading material!" – Ursula Tichy, Der Standard
By the same author and illustrator