Jacob is really cheesed off that Mum has moved to the country with him, just because she wants to live with her boyfriend Hannes. And yet they had a nice time together in their small apartment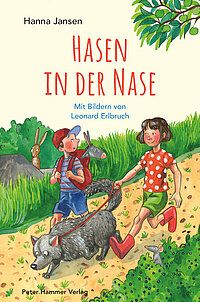 under the roof. Jacob is disgruntled as he roams through the fields. He feels left out and dwells on his memories.
But then he meets a wild, funny girl who would love to be a country girl! Pia, who spends every free day with her grandfather in the village, knows everything and everyone .She takes Jacob on adventurous forays, and he experiences the happy feeling of being free in the midst of nature and a small village community. From here, it's no longer so difficult to find his way back to feeling secure at home with Mum—and in the end even with Hannes.
Sensitively and very vividly, Hanna Jansen tells the story of an eight-year-old saying goodbye and arriving and the joys of a child's life far from the city.
by Hanna Jansen, with illustrations by Leonard Erlbruch
---
Peter Hammer Verlag | hc | 120 pp | 145 x 222 mm | 2021 | 7+
All rights available
[original title: Hasen in der Nase]
By the same author: