Poodle Hugo loves tidying-up, sorting, putting away and cleaning until everything shines. Cat Kalina, on the other hand, cannot imagine anything more awful, because what could be more boring than cleaning-up! But on cleaning-up day, Kalina must also help—a deal is a deal!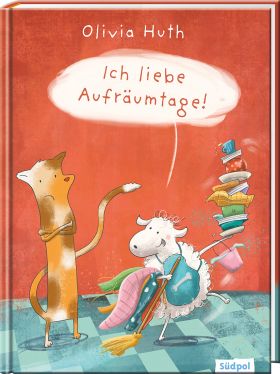 Fortunately she knows a few tricks that make the room look tidy in no time—at least until Hugo opens the door of the closet and everything tumbles out on top of him.
But then Kalina realises that tidying up and cleaning can even be fun—especially if you can treat yourself to a few chocolate cookies once the work is done and spread crumbs around once more.
The eternal fight to clean up—(almost) every family can tell you a thing or two about it. This witty picture book narrates the different views on the subject of tidyness in funny scenes, showing that you can always find a compromise. And maybe you will even feel like tidying and cleaning up yourself in the end!
by Olivia Huth
---
Südpol Verlag | hc | 32 pp | 230 x 300 mm | 2020 | 3+
All rights available
[original title: Ich liebe Aufräumtage]
By the same author/illustrator: