Hugo hates rain, Kalina, however, can imagine nothing better than jumping into water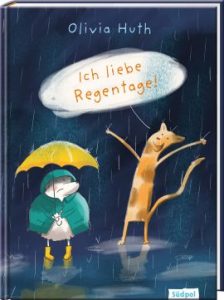 puddles in the rain so that the water splashes to all sides.
This picture book narrates in sweeping images how nice it is to have a friend who carries you along. Even if you'd much rather retreat into your shell in a 'bad-weather-mood'.
And a new experience can be very exhilarating. This is something Hugo fully agrees with in the end. Fortunately, it rains rather often!
by Olivia Huth
"Wonderfully funny and unbelievably happy, she tells her story of the two unequal friends, one of whom shows the other that there is no such thing as bad weather, but that you can have a lot of fun even on rainy days. This happy mood is contagious and awakens the desire to follow suit." – janetts-meinung.de

"It is not so much the weather, but often one's weaker self that needs to be overcome to embark on new adventures. Highly recommended!" – KidsBestBooks
Südpol Verlag | hc | 32 pp | 203 x 297 mm | 2018 | 3+
All rights available
[original title: Ich liebe Regentage]
By the same author/illustrator: