Nicolas Gorny & David Füleki
Detective Agency Creep & Co.: Danger! Space Goo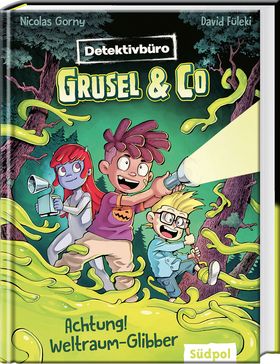 Secret Service … Aliens … Highest Alert Level—This is serious stuff!
Rocko Grusel and Luis Zack—experts in spooky matters of all kinds—one evening observe how a large meteorite hurtles
down to earth and shortly afterwards a glistening column of fire shoots up. Clearly, Rocko and Luis must investigate what's going on.
In the forest they come across a mysterious flying object. On board there is one of the most dangerous creatures in the
entire universe with an insatiable appetite for EVERYTHING! The entire planet is in danger …
Südpol Verlag
Early Readers
Original title: Detektivbüro Grusel & Co. – Achtung! Weltraum-Glibber
Age 7+
120 pp | € 13
hc | 148 x 205 mm
Publication: 2021

Author: Nicolas Gorny
Illustrator: David Füleki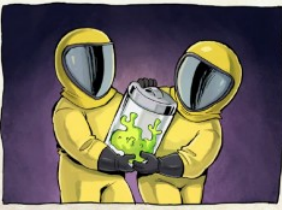 "The varied layout, the constant change between light and dark, the many fast-paced, comic-like illustrations, short chapters and a quirky story: presentation and content fit together perfectly and are oriented towards the media preferences of the target group." – The Jury, Leipzig Reading Compass, 2022
"Loaded with wit, action and great characters […] Imaginatively twisted: a cosmic-glorious feel-good book." – Janet Blume, kinderbuchlesen.de
"Who needs the "Men in Black" when Rocko and Luis are on hand? Nicolas Gorny has created an exciting detective story for early readers in "Detective Agency Creep & Co" that will have even young kids share in the thrill." –
Marsha, Mutter&Söhnchen Blog