The awe-inspiring southernmost place on our Earth
Who discovered the Antarctic? How cold is it there, and do polar bears live at the South Pole?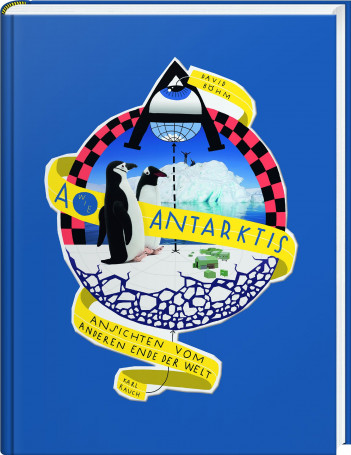 Everyone knows it, but hardly anyone can say more than three sentences about it: the continent that belongs to no one, but to all of us, which may only be used peacefully, on which the testing of weapons and waste disposal is prohibited. Antarctica is probably the most unknown of all continents.
David Böhm tells of the discovery of Antarctica, of its peculiarities. But his full-length illustrated book conveys much more, namely what we can learn from the Antarctic. In preparation for the book, he travelled to Antarctica with his 10- and 11-year-old sons, gaining his own experiences gathering impressions of the continent. He found out that in the Antarctic you can make do with far less than we can imagine.
by David Böhm
Winner of the German Children's Literature Award 2020
Winner of the Magnesia Litera Award 2020
7 Best Books for Young Readers – Jan 2020
Nature Book of the Month – March 2020
"The approach and artistic design of the topic are also unusual and groundbreaking: in an impressive variety of text types and design techniques, which skilfully combine photographs, maps, comic elements, infographics and illustrations on double and fold-out pages, biological, historical, geographical and political factual knowledge is presented as well as philosophical intellectual games and experiences that the artist collected on his journey to the South Pole. It is not least this personal level and the sincere respect for his subject matter that make this non-fiction book so special." – Jury statement, German Children's Literature Award

"The illustrations are as varied as the topics – each double page creates new amazement" – FAZ

"A book that asks the right questions – out of curiosity and enjoyment." – rbb

"The picture book A is for Antarctica not only provides in-depth knowledge, it enchants with large-format fold-out pages and a wonderfully anarchic approach and drawings." – Der Standard

"A is for Antarctica is one of the few non-fiction books that impress both visually and in terms of content." – ZEIT Leo

"A work of art about Antarctica" – Nordseezeitung

"A remarkable book" – Hans ten Doornkaat, NZZ 

"It's not just the facts that make the large-format and elaborate picture book into something special. It is also the design that plays with a variety of colours and formats. You explore a world, you literally immerse yourself into images and text and emerge hours later. A journey of discovery, so adventurous, so magnificent and so stimulating!" – Deutsche Akademie für Kinder- und Jugendliteratur
---
Karl Rauch Verlag | hc | 80 pp | 240 x 320 mm | 2019 | 6+
Rights sold: Chinese (simpl.), Korean, Russian & Slovak, all other rights available, except for Czech language
[original title: A wie Antarktis]