Mirror, mirror on the wall, who writes the funniest fairy tales of all? Elisabeth Steinkellner and Michael Roher, answers the mirror, and who's to argue? Never before has anyone fabulated so amusingly through the history of fairy tales, mixing old with new in the most wonderful way possible: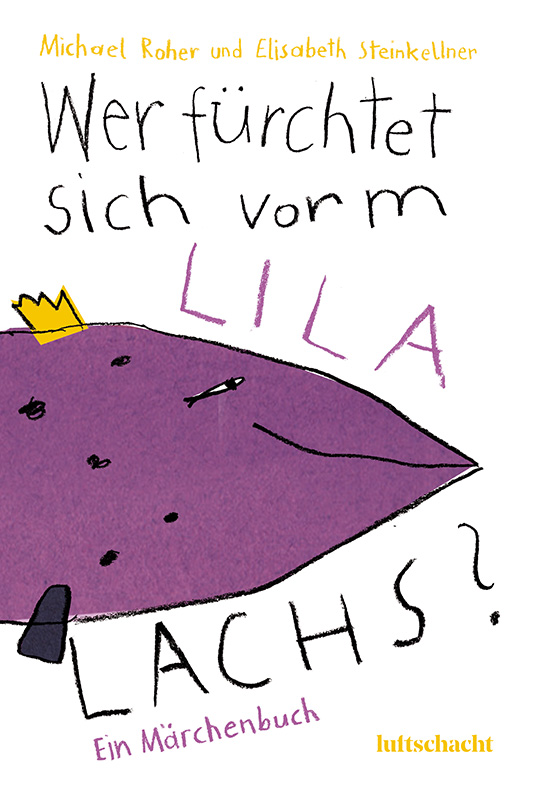 Red Riding Hood and the wolf are the best of friends, until he accidentally swallows a large stone; the Giant Polkenudel sleeps for the next fourteen thousand years while Rapunzel hangs down his long beard to his first love. Snow White on the other hand is sick to death of the stupid princes. There are two bears who dream of flying and, of course, an evil dragon.
Who's Afraid of Purple Salmon is great fun for young and old children alike, lovingly illustrated with Michael Roher's fine lines and lightness of hand.
by Michael Roher & Elisabeth Steinkellner
Austrian Children's Literature Award 2014—Collection
Book of the Month 2014 (Institute for Children's Literature)
Toad of the Month 2014 (Stube)
7 Best Books for your Readers, 2014
---
Luftschacht Verlag | hc | 168 pp | 2013 | 4+
All rights available
[original title: Wer fürchtet sich vorm lila Lachs?]