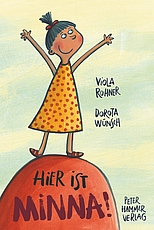 Many things are floating around in Minna's head and not only because she will soon go to school. She leads a turbulent life with her cool brother, who only likes dangerous things, her stressed dad, who occasionally leaves the house without socks and Tarzan, who frolics around in mum's tummy to such a degree that she cannot go to work any longer. And with grandpa Jan and his friend Susette, who run a hair salon where Minna lends a hand from time to time.
Minna good-humouredly tells of these exciting days between the farewell party in kindergarten and the first day at school. She moves from one topic to the next and it is great fun to listen to her and to see how she grows a little day by day: when she watches over the washing machine, saves the day at the hair salon and—best of all—knows right on the first day at school with whom she wants to squat on the big red stone in the middle of the schoolyard in future.
Viola Rohner marvellously strikes the right note of a lively six-year-old and the unique atmosphere of the departure into a new phase of life. Dorota Wünsch's cheerful images render the read even more pleasurable!
by Viola Rohner & Dorota Wünsch
---
Peter Hammer Verlag | hc | 64 pp | 160 x 240 mm | 2016 | 5+
All rights available
[original title: Hier kommt Minna!]