The little girl is lying in her bed, her eyes wide open. The night is black and you can get lost in the dark room like in a dark forest. But thank God, there is the white bear! He is sitting at the little girl's bedside every night, slightly shimmering in the darkness.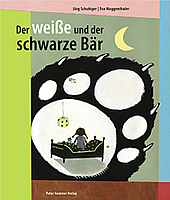 One day the white bear is gone and it is pitch-dark. the girl thinks: "If there is still a bear sitting beside my bed it must be a black one." And indeed: she can hear a moist nose snuffling.
A wonderfully written book about the power of imagination, remarkably illustrated with countless details.
by Eva Muggenthaler & Jürg Schubiger
Owl of the Month
One of the 7 Best Children's Books
Nominated for the German Children's Literature Award
---
Peter Hammer Verlag | picture books | hc | 32 pp | 24 x 28 cm | 2007 | 4+
Rights sold: Chinese (simplified), Korean, Persian, Spanish
Link to the Litrix Website with detailed description and English translation
[original title: Der weiße und der schwarze Bär]