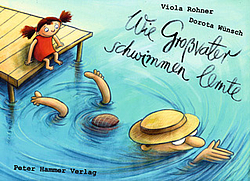 The little girl and her grandfather spend a lot of time together. They look at the trains at the station and watch the animals in the zoo, they buy bread on the market and weed grandfather's garden. But whatever they decide to do, the old man always notes: maybe this is the last time we do this.
But one summer's day the little girl proposes to go swimming and finds out that this is grandfather's first time and that he has never learnt how to swim!
A warmhearted, wonderfully illustrated picture book about the young and the old and the happiness that comes from being together.
by Dorota Wünsch & Viola Rohner
"Very atmospheric and sensitive, Viola Rohner and Dorota Wünsch tell of the great happiness that young and old can experience together" – Augsburger Allgemeine

"A picture book that goes to the heart!" – Stuttgarter Zeitung

"A story full of wisdom and joie de vivre. This cleverly composed book about the encounter of young and old will interest children from the age of 5 and delight all grandparents." – List of Recommended Titels – Ev. Buchpreis (Protestant Book Award)

"You can also do things for the first time. The way the authors convey this is testimony to how seriously they take their young readers, viewers, listeners." – Hamburger Abendblatt
---
Peter Hammer Verlag | picture book | hc | 24 pp | 29.7 x 21 cm | 2011 | 4+
Rights sold: Chinese (simplified), Lithuanian
[original title: Wie Großvater schwimmen lernte]