One normal day, the drawbridge operator is going about his work when he suddenly discovers a bridge troll, who is sleeping under his drawbridge. At first, he is furious. The bridge troll has no business under his bridge, of all places, so why is he here?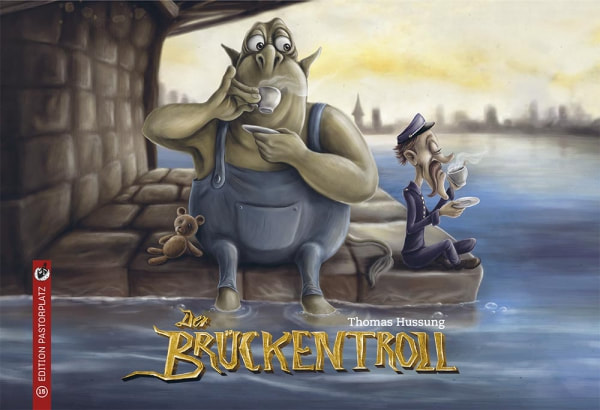 Gradually, though, the bridge troll and the drawbridge operator become friends, even though their relationship is met with opposition from the townspeople.
In his debut, author and illustrator Thomas Hussung uses warm colors to tell a story about exclusion, the fear of everything alien, and true friendship. At the same time, he invites us to enjoy how he plays with words.
by Thomas Hussung
"In my opinion, a more than successful debut." – Home of Taste

"The Bridge Troll is a highly topical book." -Geschichtenwolke—Children's Book Blog

"It is, in general, one of the great strengths of this book that many of the things that happen outside the friendship between the drawbridge operator and the bridge troll are not shown; yet, they are present and imaginable." – Buchkind-Blog
---
Edition Pastorplatz | hc | 34 pp | 240 x 180 mm | 2017 | 5+
All rights available
[original title: Der Brückentroll]