Come and enter the Turnips' cave, where the Turnip family tries to kip, doze off, slide into beddybies every night.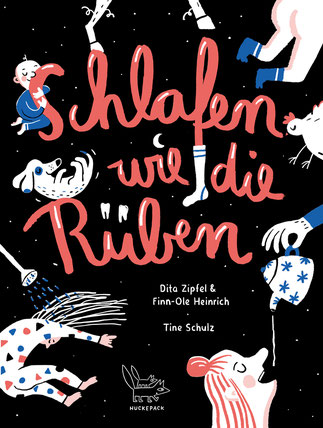 But before they can sleep, there are a hundred little things to be taken care of – and all of which are not supposed to be mixed up! So it's kind of a crazy adventure before everyone can finally be off to la-la land.
Finn-Ole Heinrich and Dita Zipfel (both winners of the German Children's Literature Award in 2014 respectively 2020) wrote a funny lullaby-poem, that is at first all mixed up and needs some good shaking to finally calm down.
by Finn-Ole Heinrich & Dita Zipfel with amazing illustrations by Tine Schulz
7 Best Books for Young Readers, April 2021
Longlisted as one of the Most Beautiful German Books 2021 (Stiftung Buchkunst)
"This clever and turbulent fireworks of speech is rounded off by pictures penned by Tine Schulz, which give the text additional spice and steel power. […] This is how bedtime books are fun!" – Marlene Zöhrer, Süddeutsche Zeitung

"That is the art of language on a high level […], extensively and wittily illustrated." – Susanne Birkner, NDR Info

"In dazzlingly funny verses, a child tells how "the little people go to bed" at home […] But first everything is pleasurably mixed up and confused until all sense is lost. […] Tine Schulz translates this nonsense into suitable pictures, all in red, blue, black and white, truly congenial! […] Warmly recommended!" – Gisela Lehner, ekz

"… a masterpiece, an endearing little spectacle." – Sarah Jørgensen, Mojoreads
---
mairisch verlag | hc | 32 pp | 196 x 260 mm | 2021 | 4+
All rights available except for Spanish & Portuguese