The little giraffe, the little elephant and the little zebra are best friends and they meet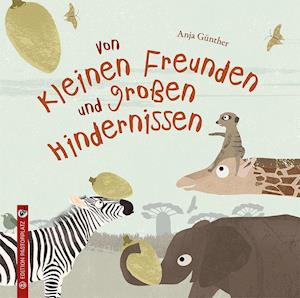 every day in the Savannah.. One day they make a wonderful discovery: huge trees with the sweetes fruits grow on an island in the middle of the river. But it seems impossible to get hold of these fruits. Disappointed, they give up until one day they get a visitor.
A wonderful parable about the fact that sometimes you should be patient and try things again. A special book with a lot of humour and the astonishing realization for children that time solves some things by itself.
by Anja Günther
---
Edition Pastorplatz | hc | 34 pp | 210 x 210 mm | 2021 | 3+
All rights available, except Simplified Chinese
[original title: Von kleinen Freunden und großen Hindernissen]