This love story starts at both ends of the book … and the happy ending is in the middle!
Viola is in love with Storm and Storm is in love with Viola. Their hearts are both in turmoil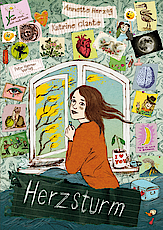 but neither one of them has the slightest idea how the other is doing. Doubts rob them of their sleep: What if he is already in love with someone else? What if she blows him off? After flying high, they experience a crash landing. Out of fear they might come across as uncool, they never send the clarifying message and screw up the best opportunities. To make matters worse, Storm kisses the wrong girl at the school party – the situation is really messed up! Storm turns his true feelings into song lyrics for the student band while Viola confides in her diary. Mixed into the jumble of emotions are questions about passion and sexuality. Girls' magazines, statistics, and books are consulted in search of answers to the fearful questions "Am I normal? Am I attractive? And is love always so complicated?"
In an honest, sensitive, and very witty manner, the spectacularly designed graphic novel unfurls the entire cosmos of lovestruck teenagers. Viola's and Storm's versions of the story head toward each other from the front and from the back and meet – happily – in the middle.
by Annette Herzog, Katrine Clante & Rasmus Bregnhøi
Leipzig Reading Compass

Skriver Prize 2017, awarded from the Danish Ministry of Education
Danish Children's Book Prize ORLA 2017—nominated in two categories
7 Best Books for Young Readers—April 2018
"A great book about growing up: funny, authentic and philosophical at the same time!"- The Jury – Leipzig Reading Compass
---
Peter Hammer Verlag | pb | 128 pp | 2018 | 11+
Rights sold: Dutch, Faroese, Italian, Japanese, Russian

[original title: Herzsturm – Sturmherz]
Also available:
Pssst!