Birge Tetzner & Dirk Uhlenbrock
Halloween - Of Ghosts, Vampires and Other Spooky Creatures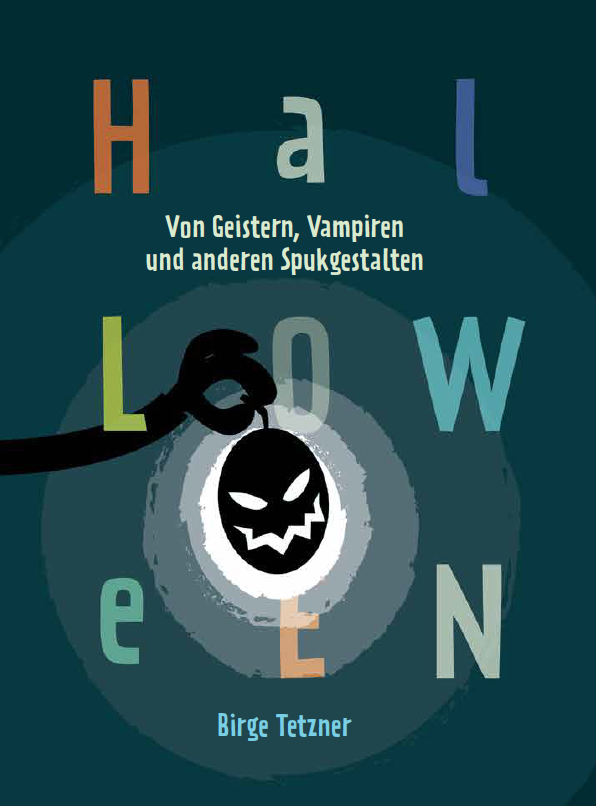 Halloween has long had a fixed place in our calendar. On the evening of 31 October, little creepy characters go from door to door, shouting "trick or treat" and demanding treats. But why actually? Who started it? When was the first time a grimace was carved into a pumpkin and lit with a candle?

And those undead, the vampires and demons that children love to dress up as on Halloween – do they exist or not? After all, they are so present that archaeological research has recently become aware of them …

A search for clues around the scariest night of the year.
ultramar media
Non-fiction

Original title: Halloween – Von Geistern, Vampiren und anderen Spukgestalten
Age 10+
96 pp | € 18
hc | 190 x 240 mm
Publication: 2020

Author: Birge Tetzner
Illustrator: Dirk Uhlenbrock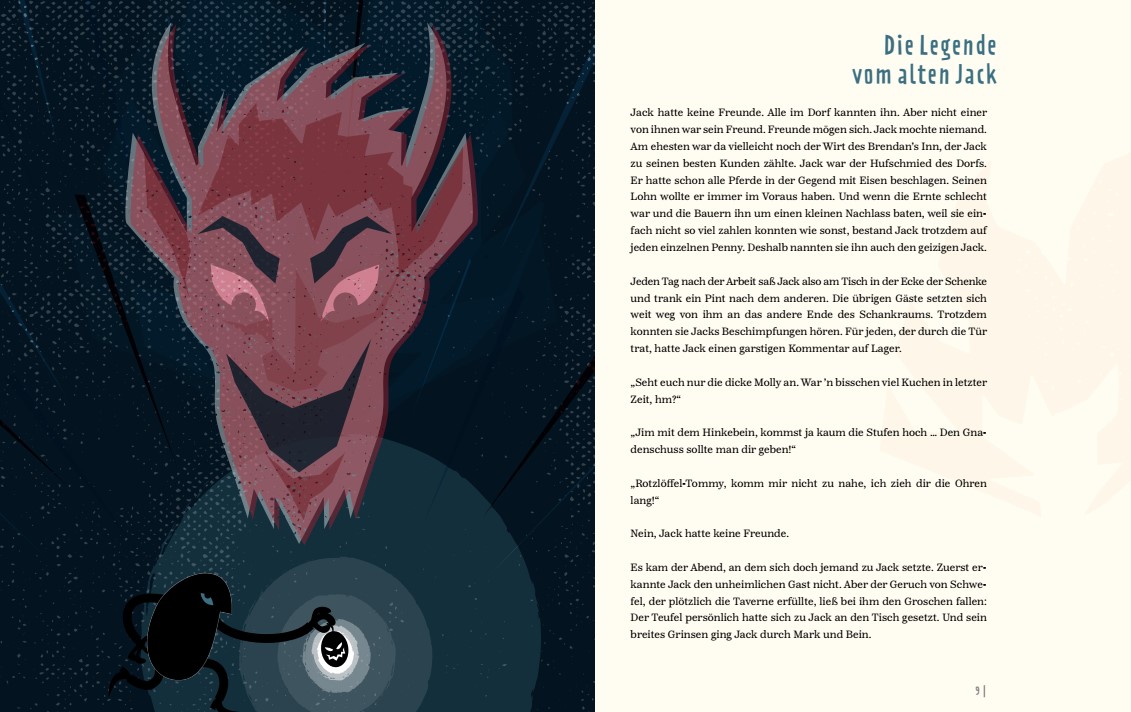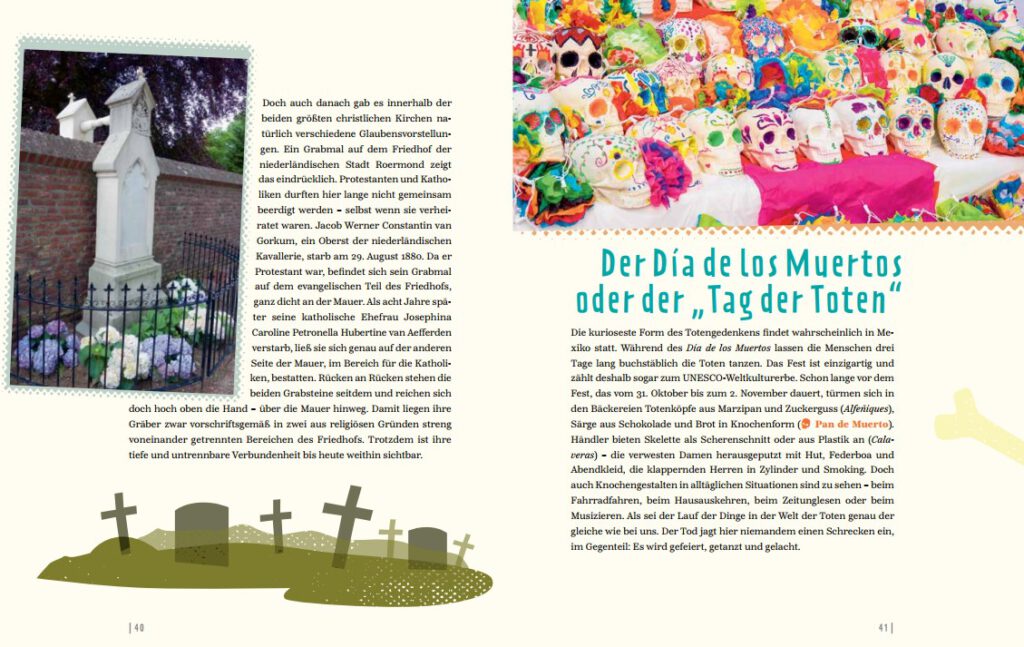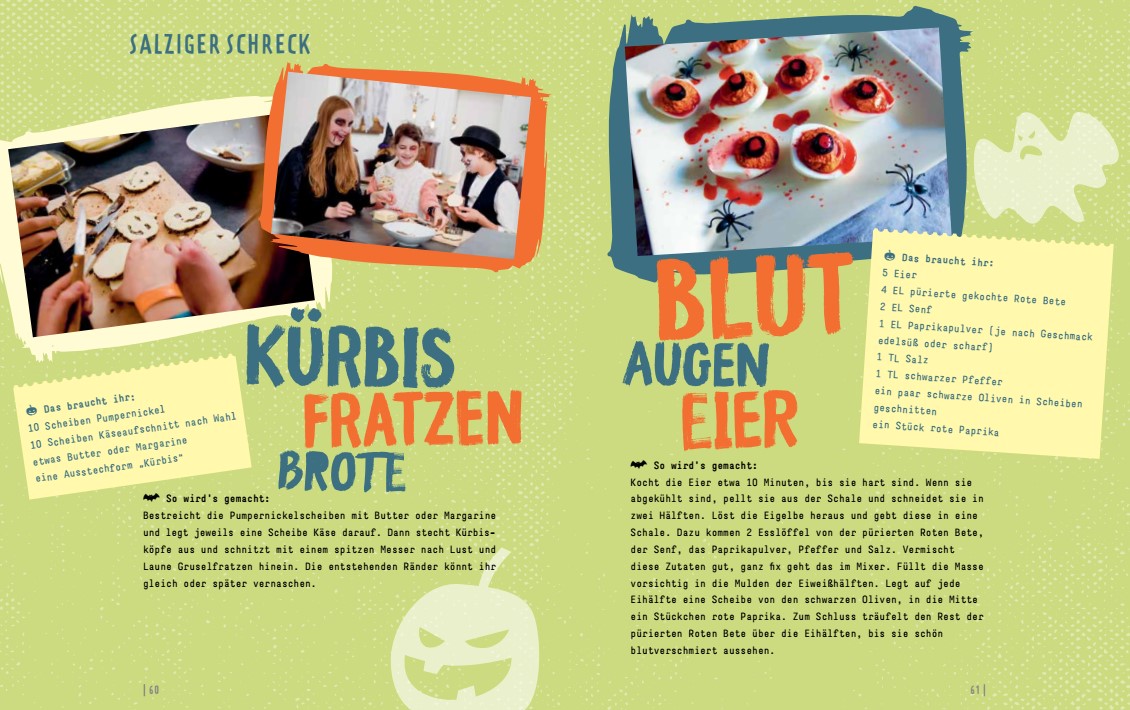 "Halloween – Of Ghosts, Vampires and other Spooky Creatures combines the world's most exciting rituals around spookiness with, as always, highly knowledgeable stories from archaeology. A book for the whole year and not only for little Halloween fans (from about 9 years)." – Maria-Christina Piwowarski, Buchhandlung ocelot, not just another bookstore, Berlin

"95 pages about a phenomenon that not a few consider to be a commercial campaign from the US enlighten about the origins and meaningfulness of the custom. […] Halloween is an enlightening book for a night that will soon be upon us again. And with a nice scary story at the end, readable far beyond." – Susanna Wengeler, BuchMarkt
"This book, which is extremely successful both in terms of content and appearance, uniquely combines old and modern elements of Halloween. […] The book concludes with a real scary story (which is absolutely true!), but which is so much more than just a spooky tale. It is about the fear of vampires and the undead all over the world; you learn what kinds of undead there are and how to become a vampire. […] In short, this book is so well thought out and the thematic transition from ancient to modern and then back to ancient and informative so elegant that I could rave about it for a long time. Again, a recommendation quite regardless of age." – Natalie Korobzow, Alliteratus

"In the end, you hold a unique and great reference book about Halloween in your hands. In terms of language and the topics covered, the book is clearly aimed at young readers aged nine and up, but we adults also like to browse through it and let ourselves be captivated by the chapters. So it's a book for the whole family about a festival that has long become a fixed part of our annual calendar." – Janett Cernohuby, Bücherkarussell

"Birge Tetzner […] actually went in search of traces of Halloween, looked at Why does it actually exists here too, Why do we celebrate it here too now? What is it about All Saints' Day and Halloween and all the legends? And first of all, she retells a wonderful legend of old Jack, which I've never read in such a brilliant rendition before. But there is also a really creepy, and even creepier – because true – incident about vampires. […] And it's really a great little anthology about Halloween that hasn't been done before in this form either. Highly recommended." – New Books 2020 – The Best Books for Children and Young People with Tanja Eger, Bookshop Mäx und Moritz
"Most books about Halloween focus on the party event, here the emphasis is on cultural history." –
Sybille Mohnhoff, ekz-Bibliotheksservice
By the same author and illustrator