Have you ever tried to read the Little Prince to little children? You will soon have realized that it doesn't work. Just like Antoine de Saint-Exupéry's little hero, you must have learned a fair bit about the world before the fabulous story becomes accessible to you.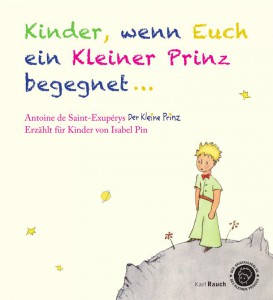 Children's book author Isabel Pin has undertaken to recount essential elements of the story for preschool children and children undertaking their first own reading attempts in an accessible
language. Along with the author's original drawings, the book offers a wonderful introduction to Saint-Exupéry's world of thought and is a very good preparation to read the original work.
Antoine de Saint-Exupéry's The Little Prince retold for children by Isabel Pin
---
Karl Rauch Verlag | hc | 65 pp | 205 x 225 mm | 2018 | 3+
All rights available 
[original title: Kinder, wenn Euch ein Kleiner Prinz begegnet …]