by Michaela Holzinger & Thilo Krapp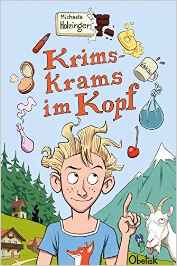 Lenny's head is full of hodgepodge. So Hilda claims, who lives in the park through which Lenny passes through on his way home from school. That is to say that he always has funny and crazy ideas. When the school holidays begin Lenny is to go and stay with his grandparents who live in the country.
He imagines villages, nature and boredom, but he is vastly mistaken: A crazy goat wants to be tamed, a new arch enemy is to be defeated and a mysterious figure roams the gloomy Grimmel Forest. Until a much greater danger looms for Grimmel Valley. Fuelled by the hodgepodge in his head as well as grandma's fabulous cherry crumble, Lenny rises to the challenge. Enemies of Grimmel Valley, watch out!
Obelisk Verlag | 140 pp | 135 x 203 mm | July 2016 | 9+
All rights available except for Chinese, Korean, Italian and Turkish language rights
[original German title: Krimskrams im Kopf]
Merken
Merken