When guinea pig Maffi drops from the removals van—cage and all—her world falls apart. No food, no home, cars everywhere– where should she go? Utterly exhausted, she seeks refug in an empty house.
But this isn't any old house—it is the Wild House! All sorts of different wild animals live here, who regularly run special errands for the Wild House. This time, they are to take a circus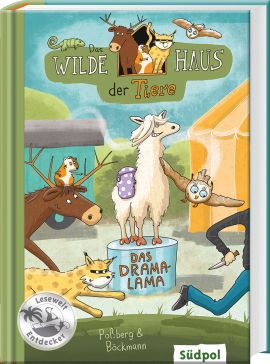 Lama back home. The field team, "A—Team" for short, with stag Hannibal, lynx Lino and owl Elvira set off with Maffi in tow. But lama Loretta has vastly different and obstinate ideas and knife thrower Zorg also gets in the way of the  A-Team's mission ….
by Andrea Poßberg & Corinna Böckmann
"A wonderful start to this series for self-readers and listeners, with heart, wit and thrill combined in an exciting mix." – Buchhandlung für ausgesuchte Literatur Ulrich Klinger

"Funny adventures from the animals' perspective, for children who can just about master their own little novel." – Eselsohr 9/2018, Maren Bonacker

"A nice book for pet lovers, with an exciting mission and a lot of humour." – Familienbücherei

"A little exciting, at times thrilling, but not too much, and funny. Thus a great mix that makes children curious and encourages them to read on." – Kinderohren-Blog
---
Südpol Verlag | hc | 92 pp | b&w illustrations | Aug 2018 | 7+
All rights available
[original title: Das Wilde Haus der Tiere: Das Drama-Lama]