Ten tykes – full of beans
Finger rhymes are meant to introduce some form of order within the bustle of seemingly endless shorter and longer tiny fingers. There is not one child that doesn't love finger rhymes! Rhyming and playing is an excellent combination.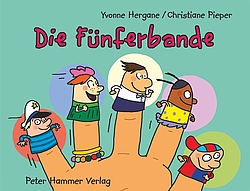 The gang of five sets out as is customary in finger rhymes: all five fingers are given names and a particular characteristic. But this is not where things end for Yvonne Hergane.
Each hero from the gang of five discovers a cheeky look-alike and the nice order turns into a great scramble. A few pages of this tumultuous board book are needed before the right and the left hand remember the advantages of friendly co-operation. Until then there is a lot to see, because Christiane Pieper has furnished her fidgety finger puppets with funny details, facial expressions and gestures.
by Christiane Pieper & Yvonne Hergane
---
Peter Hammer Verlag | board | 26 pp | 230 x 176 mm | 2015 | 2+
Rights sold: Catalan, Chinese (simpl.) & Spanish
[original title: Die Fünferbande]