Sensitively told, luminously staged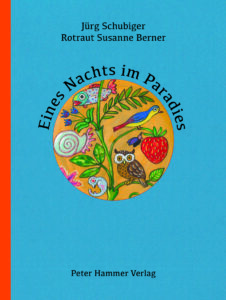 The little story by Jürg Schubiger—discovered in the great Swiss author's estate—looks into a distant night. Into a time in which everything is still intact and lasts forever.Adam and Eve lie on a cushion of moss and look up at the stars, dense as snowflakes. Surrounded by everything they need and more. So great is the abundance that Eve is overwhelmed all at once: Eternal this paradise, these wildebeests and cockatoos—we have nothing left to wish for! Perplexed Adam sees her tears and, to his own surprise and that of Eve, he suddenly makes an invention: the kiss. Paradise, whispers Eve.
Rotraut Susanne Berner has once again been inspired by Jürg Schubiger: Alongside of his tale from paradise, her grandiose pictures unfold an entire, luminously beautiful story of creation.
by Rotraut Susanne Berner & Jürg Schubiger
Shortlisted for the Catholic Children's Book Prize 2023

7 Best Books for Young Readers

100 Outstanding Picture Books, dPICTUS, Bologna Book Fair 2023

Toad of the Month, STUBE, Mai 2022
"Jürg Schubiger always manages the feat of unfolding enormous depth in just a few lines—and this continues in Rotraut Susanne Berner's pictures. […] As we gaze into the stars with Adam and Eve […] we experience yet another creation story. A red seed falls from the beak of a cockatoo a the very beginning […]. From this, page after page, a pomegranate tree grows. At the end, in the middle of the full moon night, the lovers sit in its branches, surrounded by many animals, including a snake. A meditation on the beauty of life and nature." – Niels Beintker, Bayerischer Rundfunk

"It is wonderful how en passant the Swiss [author] turns an initially terse comment into a question about the meaning of life, about expectations and about too much on offer. One can endlessly discuss the questions raised here and enter into conversation with small children in the finest way. […] Each double-page spread is a celebration of colour and life. Numerous details in the strong-coloured pictures are to be discovered and marvelled at. And so the illustrations are a perfect extension of the story: a wonderful and philosophical picture book not only for children." – Kim Kindermann, Deutschlandfunk Kultur

"Through her illustrations, Rotraut Susanne Berner takes the paradise narrative to another level and re-locates it by including the various phenomena that nature has predetermined, enriching it with scientific points of reference. And even if the text continues to think about the biblical source material, it remains clearly located in Genesis, but opens up other and new spaces for thought, which once again show that there may be a need for other interpretations." – STUBE
---
Peter Hammer Verlag | hc | 24 pp | 205 x 270 mm | 2022 | 10+
Rights sold: Spanish (Lóguez Ediciones)
[original German title: Eines Nachts im Paradies]