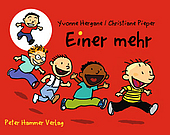 In this funny picture book we come across many little boys, there is one more on every new page. Accompanied by amusing and simple rhymes the tots do what little boys always do: they are running and shouting, laughing and teasing each other, playing and eating – to cut it short: they are having a lot of fun.
When nine exhausted boys finally lie in their beds, the tenth little fellow appears in the disguise of a ghost and the brief moment of silence comes to a sudden end!
A colourful picture book which is great pleasure for the youngest.
by Christiane Pieper & Yvonne Hergane
Nominated for the German Children's Literature Award 2012 (Deutscher Jugendliteraturpreis)
---
Peter Hammer Verlag | board | 24 pp | 23 x 17.6 cm | 2011 | 2+
Rights sold: Arabic-German, Dutch
[original title: Einer mehr]