Chemistry and Alchemy for the Unafraid
When we think of chemistry, we envisage scientists in white lab coats that handle conical flasks and raw chemicals over  Bunsen burners in their laboratory.
Or we think of complicated formulae which we already failed to understand in school.
Who would have thought that today's white-lab-coats' chemistry has a wonderful and wildly adventurous history that dates back to Amazonia's forests and into the monasteries and castles in Europe! This is where centuries ago fire was used to transform materials: the rind of lianas into deadly poison, salpeter into gun powder, (huge amounts of ) children's wee into (tiny amounts of) phosphor. Generations of creative alchemists in vain put their entire life's energy into the production of gold and instead discovered porcelain and much more without which our world would not be imaginable today.
Jens Soentgen, natural scientist and philosopher, moves from one fire place to the next and enthusiastically narrates the most crazy and suspenseful stories of substances, alchemists and chemists. He doesn't forget to include the often fatal mixture of chemistry and power.
The second part of the book includes many new experiments with which the unafraid can spark their own passion for the metamorphosis of substances!
by Jens Soentgen & Vitali Konstantinov
"A chemistry book for the entire family." – Süddeutsche Zeitung

"The highest commendation for a nonfiction book that fabulates." – NZZ/Hans ten Doornkaat

"Jens Soentgen is an exceptionally gifted story-teller with poetic flair." – Tagesanzeiger, Christine Lötscher

"The crimson endpapers, the velvety-red cut edges – just like the highly-symbolic colour combination of black, white and red on the outside as well as the inside make you wonder whether the content of "How to Philosophise With Fire" can keep up with its spectacular visual appearance. It can." – Eselsohr, Heike Byn
Non-fiction Book of the Year 2016
One of the 7 Best Books for Young Readers – December 2015 & January 2016

Winner of the EMYS Non-Fiction Book Prize – February 2016
---
Peter Hammer Verlag | hc | 320 pp | 2015 | 14+
Rights sold: Chinese (simplified), Korean

[original title: Wie man mit dem Feuer philosophiert]
---
By the same author & illustrator: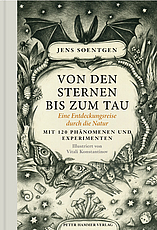 By the Merken
Merken
Merken
Merken