Berlin, in the middle of Kreuzberg: Lotte, new girl in town, exceptionally clumsy, wonderfully self-deprecating, averagely talented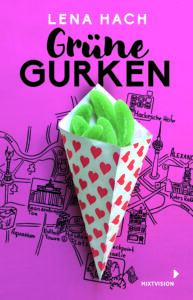 but crushing hard on Vincent of Green Cucumbers. Which is probably not his name. Anyway, she's crushing on the guy who always shows up at the kiosk opposite her house on a Monday, buying exactly ten green cucumbers. 
A story about what is really important: the right city, the right guy and the right kind of wine gums.
by Lena Hach
Contains 20 funny infographics by artist Katja Berlin!
---
Mixtvision | 224 pp | 135 x 210 mm | 12+
All rights available
[original title: Grüne Gurken]