How curiosity inspires and brings new friends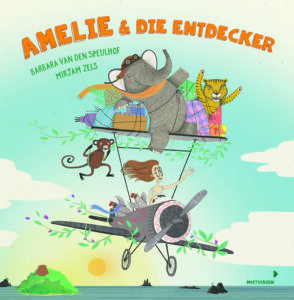 Amelie is a know-it-all – and she's not alone. When she lands on an unexplored island, she suddenly becomes a research object herself. Monkey, tiger and elephant are like her – incredibly curious. They get closer, they get to know each other, they explore together. Until one day Amelie says goodbye. But a part of her remains on the island forever.
In imaginative collages, Mirjam Zels invites you to discover strange worlds with explorer Amelie and, together with the endearing story by Barbara van den Speulhof, shows how friendship develops.
About the valuable experience of getting involved in something new
Strong female character meets popular animals
With colourful collages by an award-winning illustrator
by Mirjam Zels & Barbara van den Speulhof
__________________________________
Mixtvision | hc | 32 pp | 248 x 251 mm | 2021 | 3+
All rights available
[original title: Amelie und die Entdecker]