A very special leporello climbing tour! 2.75 metres long!
In the North, where you find elks and dwarfs in knitted hats, there is a tree in the woods. At the very bottom, right by the roots lives a dwarf in his cave – this is the root dwarf. At the very top, right in the swaying tree top lives the treetop dwarf The root dwarf would love to go all the way to the top. The treetop dwarf dreams of the dark cave at the very bottom. So both set off: one going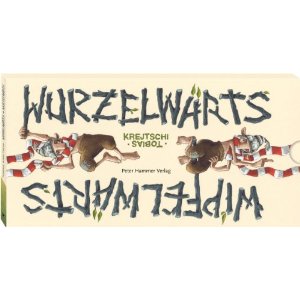 upwards, the other downwards. Following informative encounters with the other occupants of the tree, they finally arrive at their destinations. And then? Well, they squat down and are happy. But the calm is deceiving. Because if you turn the leporello, the climbing tour starts afresh!
by Tobias Krejtschi
"A wonderful leporello with many wow effects!" –Familie & Co

"Content and form make a wonderful liaison in this book" – Buchjournal
Peter Hammer Verlag | picture book | 2012 | 3+
Rights sold: Chinese (complex & simplified)
[original title: Wipfelwärts & Wurzelwärts]