We are delighted to announce that King Will Join Us Later by Andrea Karimé and Jens Rassmus has won the Children's Book Prize NRW 2018!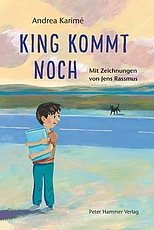 From the ministry's message: "Reading pleasure is a pleasure that should not be withheld from any child. Inspiring stories and attractively designed books that are suitable for reading aloud and at the same time challenge you to read yourself are indispensable for this. With the children's book award, we repeatedly move such a book into focus, "said Culture Secretary Klaus Kaiser.
In King  Will Join Us Later, the emotional theme of a loss is told: the loss of the dog King back at home, the home which the family of the nameless first-person narrator was forced to leave.
From the jury's explanation: "The loss of the dog King is the biggest loss for the boy – which can only be endured with the help of the imagination: The boy believes in the power of the blue light, which he got from a neighbor. The light is a magic light for him, bringing things and people and dogs to life in books. "
Andrea Karimé designs the text in such a way that children with the experience of flight can recognize their own situation, but it is also interesting for other children. The drawings by Jens Rassmus are congenial – wonderful people and a dog every kid would long for."
Congratulations!
https://www.land.nrw/de/pressemitteilung/lesefreude-fuer-kinder-land-nordrhein-westfalen-vergibt-kinderbuchpreis-zum-30-mal
https://www.buchmarkt.de/buecher/nrw-kinderbuchpreis-2018-geht-an-andrea-karime-und-jens-rassmus-fuer-king-kommt-noch/