Spiders spin spiders' webs. That is normal. But one little spider in the meadow is different. Arachnida cannot spin webs. The old cross spider urges her to keep practicing and grows increasingly impatient when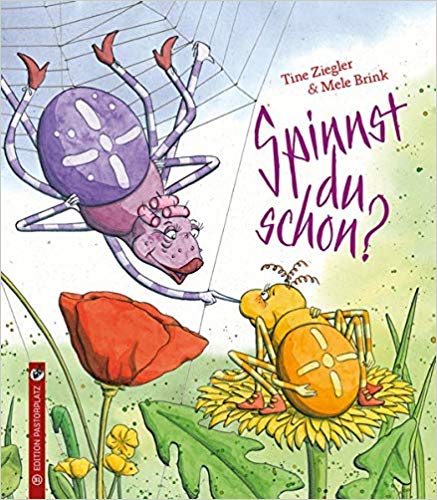 Arachnida keeps failing to accomplish this task. In the end, all the other insects and animals in the meadow laugh at her for not being a normal spider.
But Arachnida is tough and resourceful. She bravely finds her own solution to the problem. And in the end even manages to impress the old cross spider.
Who's to say what is normal? Everyone is crazy in their own way.
by Mele Brink & Tine Ziegler
"The story is cute, informative and has a very important message: It's not easy if you're different and you may easily be teased by others […]. But gives you a chance to not just be average and boring. The story builds momentum through the funny illustrations. […] Fear, exertion, joy, all feelings can be read wonderfully on her [Arachnida's] face." – www.kinderohren.wordpress.com
---
edition pastorplatz | hc | 34 pp | 210 x 240 mm | 2019 | 3+
Rights sold: Russian, all other rights available excl. Simplified Chinese
[original title: Spinnst du schon?]