"What are you dreaming of?"
Johann Wolfgang is a hapless but hard working little dung beetle. After a tiring day of rolling dung, he finds himself in the realm of dreams, heading down the dream highway in search of his own adventure.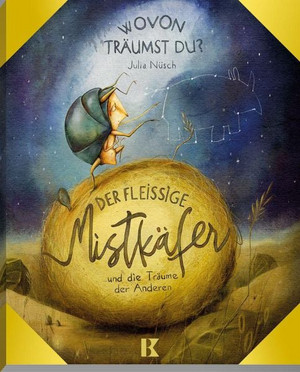 "Oh great balls of dung!" The little dung beetle somehow lands into the dreams of the other animals, and with disastrous consequences.
Woken up by the unknowing little dung beetle, the animals want their snatched dreams back! Luckily, the little dung beetle has a solution!…
A humorous and sensitive story about friendship, prejudice and dreaming.
by Julia Nüsch
"… there are numerous imaginative drawings that amaze the children and present what they have already seen before in a different way. The surreal images are in stark contrast  to what the little ones perceive with the naked eye during the day. They demonstrate that powerful images can also be created in the mind." – eselsohr, 2/2021
---
Kindermann Verlag | hc | 40 pp | 120 x 260 mm | 2021 | 4+
All rights available
[original title: Der fleißige Mistkäfer und die Träume der Anderen]