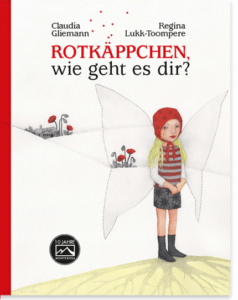 Who among us has ever asked "Little Red Riding Hood, how ae you?" How did  Little Red riding Hood feel when she realzed that the wolf had eaten her grandmother? When her own life was in danger? And how did the story continue? This picture book tells one possible version, but not only that. It also raises other questions. How do girls and boys feel when they have to experience or witness bad things happening? How do they manage to live with that? What helps them? Last but not least this book is about trust. About failure. About falling and getting up again. About not giving up.
It tells that bad things happen, things that hurt and put a strain on you. These things can be unbelievable, incredible, unforgettable. That are forgotten anyway. And somehow they are not. Then it is good when you're not alone. If you have someone by your side, like the bear in the story, with whom you can share your sorrows, little by little and then from one moment to another slowly learn to trust again.
In Little Red Riding Hood—How Are You? Claudia Gliemann poetically, quietly and carefully narrates a complex story and wants it to achieve one thing above all: courage!
Just as poetic and imaginative, the story is played out in delicate dreamlike pictures by Regina Lukk-Toompere, one of the most renowned children's book illustrators in Estonia.
by Claudia Gliemann & Regina Lukk-Toompere
Winner of the 2020 Tallinn Illustrations Triennial
---
Monterosa Verlag | hc | 50 pp | 250 x 325 mm | 2020 | 6+
Rights sold: Estonian, Japanese
[original German title: Rotkäppchen, wie geht es dir?]