Martin Baltscheit & Sandra Brandstätter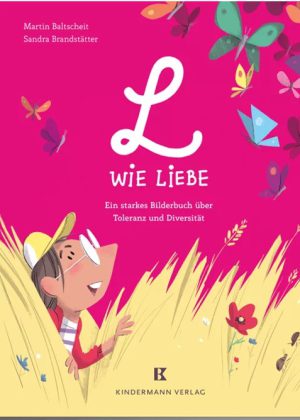 A powerful picture book about tolerance and diversity
In what way do we love? Anna loves her mum and her dad and they both love Anna. But whether mummy loves daddy, cousin loves the kiosk owner or grandma loves her rabbit—no matter who your heart beats for, every love is unique!
This children's book shows the countless facets of love and gives a first insight into the many possible family constellations—a wonderful story about tolerance and diversity for the whole family!
The multi-award-winning children's author Martin Baltscheit tells of the many facets of love in a cheeky and pointed way. Sandra Brandstätter puts the most beautiful feeling in the world on paper in a way that is suitable for children and complements the text congenially with her incomparably charming illustrations.
Kindermann Verlag
Picture Book

Original title: L wie Liebe
Age 5+
48 pp | € 18
hc | 210 x 260 mm
Publication: Feb 2022


Author: Martin Baltscheit
Illustrator: Sandra Brandstätter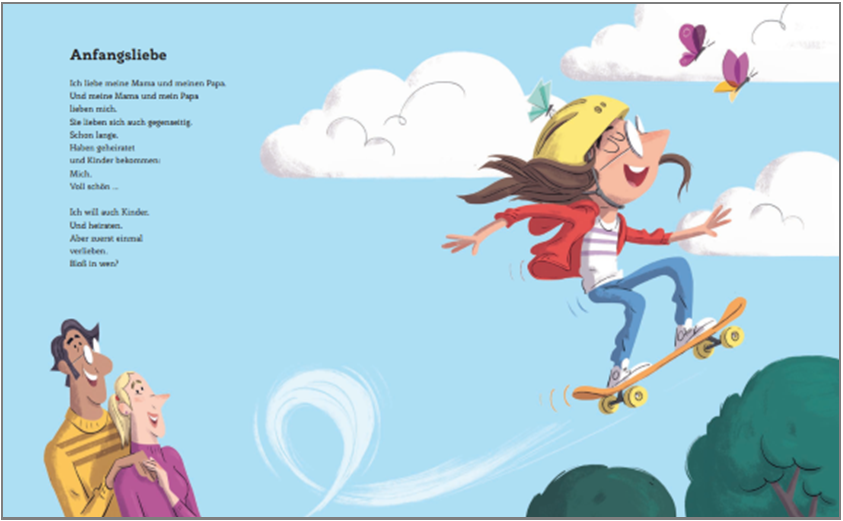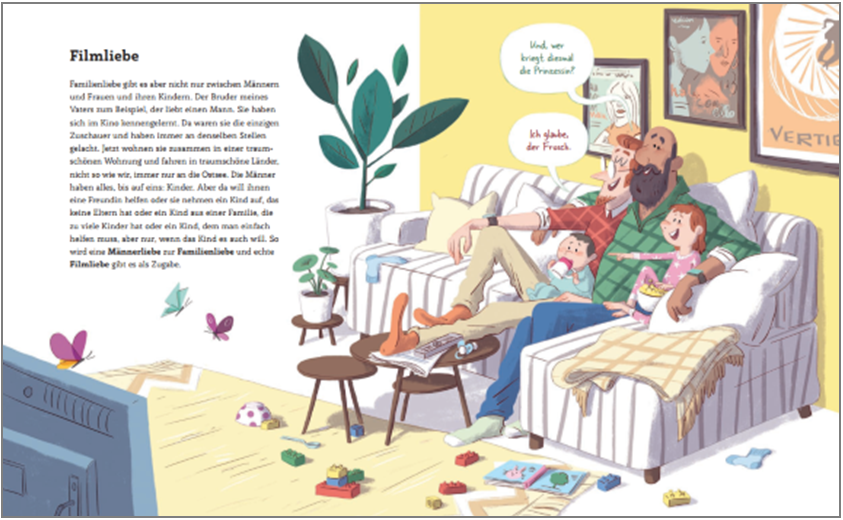 "The message is very clear: anyone can love anyone and anything, there are no rules and prohibitions. Martin Baltscheit does not want to lecture, but describes different ways of life in a natural and self-evident way. There are also open relationships. […] With bright colours and clear strokes, she conveys the beauty and lightness of love. There is a lot of laughing, kissing, dreaming and holding hands. […] Each double-page spread focuses on a different kind of love, told in short texts with concise sentences in a childlike tone or in comic drawings with speech bubbles. Of course, the book offers a rather rosy view of love in the different life models. But perhaps it offers just as good an occasion to talk about the social problems and prejudices associated with it." – Kerstin Poppendieck, Deutschlandfunk / Bücher für junge Leser
"Wonderfully light and matter-of-fact, this book shows how versatile love is if we just let it be!" – Sarah Busch, mamijojale 
"The message is clear, life is diverse and tolerance is an important life skill. The illustrator Sandra Brandstätter comes from the field of animation. She additionally lets the characters communicate with each other via speech bubbles. The cheerful, colourful pictures stress the positive mood of the book." – Bettina Harling, ekz. bibliotheksservice
"Martin Baltscheit and Sandra Brandstätter draw the most beautiful feeling in all its colours and shades in their picture book "L wie Liebe". In simple, humorous texts and equally witty dialogues, Martin Baltscheit takes us from initial love to opal love. Sandra Brandstätter has illustrated love(s) in a colourful, cheerful and varied way. A great gift for children aged 6 and up – not only for Valentine's Day!" – Eliane Fische, mintundmalve.ch
By the same author and illustrator